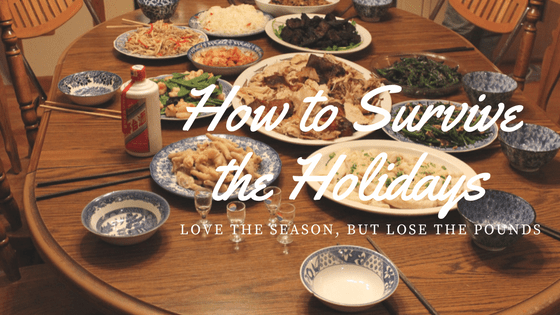 How to Survive the Holidays
FACT: The average American puts on between 8 to 10 lbs from Halloween to New Year's Eve.
Why?

Why work hard all year only to give up at the end?  This entire year we've been dedicated to the cause. People stop, only to restart in the New Year? They claim to want to enjoy the holidays without worrying about health.  That's exactly the wrong attitude.  When you give in to peer-pressure, your goals are put on hold. Don't give up on yourself, you deserve better.
"We'll I tried… there's always next year"

"It's too cold to workout."

"I want to enjoy the holidays."

"I already worked hard all year, now it's time to relax."
Bullsh#t.
You've been down that road. You know it leads nowhere. You deserve better. If you dedicate yourself during this time, commit to your workouts, commit to your nutrition, and just commit. You can drop 8-10 lbs during this time.  You will start next year ON FIRE!  This is the hardest time for health, but if you can accomplish progress during this time, you'll be unstoppable in the New Year. But more importantly, you will accomplish your goal. Workouts are tough, discipline is hard, but feeling great is priceless.
Special Bonus: 6 Essential Holiday Survival Tips

It's time to get in the greatest shape of your life. Let's make a commitment to each other. Let's lead the march towards great health. Fitness is wonderful and it is meant to be shared by all.
Tony Arreola
NASM Master Trainer CPT, WLS, CES, SFS, WFS, BCS
Best Selling Author, Get Me Skinny.