Online Coaching
Stop Quitting – Be Accountable – Value Your Health
How many times have you quit exercising?
Does the gym intimidate you?

Do exercises confuse you?

Does fitness jargon annoy you?
Do you wish fitness was in your life?

Do you know you should, but you don't?

Do you start only to quit again?
"I've never been this big."
"Things needed to change. Life got out of control. I was always busy, too busy to exercise. I finally found something that worked for me. Sure, more energy is one thing. But more confidence is the greatest gift of all." -Kenneth Pio
What if you never have to start again?
"Exactly 6 months ago, I was a candy-addict that would love to eat junk food. I decided to change my lifestyle when I found out how unhealthy I was. I started at 222 pounds and 26% body fat. Today, after 6 months of hard work and sacrifices, I am NOW 176 pounds, and 15.1% body fat!" – Fausto Villanueva, Behavioral Consultant
Finally make fitness a real part of your life.
Shed nasty fat while building lean sexy muscle with proven exercises.

Build the very best version of you by mastering simple habits.

Never fall off the wagon again.
Impactful coaching from the convenience of your phone.
Fall in love with the mirror for the rest of your life.
* Weekly Coaching Program
* Learn The Most Valuable Exercises
* 100% Money Back Guarantee
NASM Master Trainer
Tony Arreola
45,000+ of personal training with 92% success rate and average 28-pound lost
18+ years of experience
Best Selling Author
Certifications:
Certified

Personal Trainer

(CPT)

Weight Loss

Specialist (WLS)

Behavior Change

Specialist (BCS)

Women's Fitness

Specialist (FNS)

Corrective Exercise

Specialist (CES)

Sports Fitness

Specialist (SFS)

Precision Nutrition Level 1 (PN1)
Degrees:
Economics, Engineering
University of California, Irvine
Learn Our Proven MAD Plan
Employ Our Powerful Big Three Training Circuit
Master the Five Daily Dids
How much is quitting costing you?

What kind of body would you rock if you never quit the first time?

What if the exercises your friend showed you, don't even work?

What if you never get the body of your dreams?

A lack of simple accountability may already be costing you a great deal.
Here's Exactly What You Get
Transform your physique with over 100 of the most effective exercises

Make sure your dreams are getting closer with weekly check-ins

VIP coaching access through our exclusive mobile app

Engage with an intimate group of dedicated clients

Mighty motivation to pick you up on the days you feel like "blah"
*One simple app could dramatically improve your life
30 Day @Home Program
Fitness Breakthrough Session
Powerful Video Lessons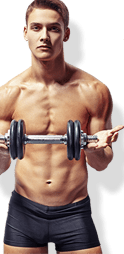 Custom Fitness Program
Custom Nutrition Program
Health Coaching
Recovery Program
Weekly Check-In
Unlimited In-App Support
Habits Formation
Monthly Video Check-In
Customized Program
Habit Formation
Initial Video Assessment
Weekly Check-Ins
What Makes Tony So Different?
After UC Irvine, Tony started at 24 Hour Fitness as an overweight personal trainer. After he finally lost the weight, he helped his clients lose weight, earning him promotion after promotion. He rose to General Manager of five different locations, managing over 300 trainers and teaching the principles of weight loss. He used his background in Engineering to simplify fitness principles.
Tony later returned to UCI to complete an Economics degree, specializing in Behavioral Economics (how we make choices.) After 7 years with 24 Hour Fitness, Tony started Total Body Project. Tony returned to working one-one with clients. He studied the client's real struggles. This wasn't a some high-level, nutritionist, or theoretical approach. This knowledge came directly from helping hundreds of clients like you.
After 18 years Tony learned:
The only information clients need to achieve their Greatest Shape Ever.

(GSE)

The crucial habits needed to overcome classic problems.
The real reasons people struggle.
He published four books, including his Best Selling Book, Get Me Skinny. Tony continued his fitness education, earning seven certifications including the prestigious title of NASM Master Trainer (less than 100 in the US.)
Tony's mission is to make fitness simple. He wants to share his message. To help every single person get the body we desire and deserve.