Personal Training Sessions
Stop Struggling – Eliminate Failure – Automate Fitness
Do You Struggle with Weight Loss?
Are you tired of not seeing results?

Have you tried everything?

Are you sick and tired of being sick and tired?
Do you fear the scale?

Do you avoid mirrors?

Have you lost weight only to gain it back again?
"I honestly thought it wouldn't work. I was wrong!"
"I've always been self-conscience of my weight. I tried many different diets and was never successful. I was concerned that Tony was going to judge me by how I looked. I honestly thought it wouldn't work. I was wrong! Three years later and 56 pounds lighter, I'm able to do exercises I never thought possible." -Anna Gallegos Sartoph, Analyst, Verizon Inc.
Live in your dream body or just keep dreaming… You decide.
"Over the five month period I lost 18 pounds, improved my strength and cardio fitness to the best levels of my life. I even improved my golf game! I'm very grateful to Tony." – Dr. Phillip Quirk, M.D., Kaiser Permanente
Together we overcome all your personal challenges: work, kids, spouse, busy lifestyle, injuries or limitations.
We'll power your heart with a cardio program you actually enjoy.
Employ a strength program to build lean muscle and strong bones.
We'll teach you stretches to eliminate joint pain and exercies to strengthen your core.
Learn to eat foods you like to lose weight.
* 1/1 Private 50 Minute Sessions
Master Trainer Tony Arreola Certifications
Certified

Personal Trainer

(CPT)

Weight Loss

Specialist (WLS)

Behavior Change

Specialist (BCS)

Women's Fitness

Specialist (FNS)

Corrective Exercise

Specialist (CES)

Sports Fitness

Specialist (SFS)
Precision Nutrition Level 1

(PN1)

Precision Nutrition Level 2

(PN2)

PN- Sleep, Rest & Recovery

(PN-SRR)

Ironman Triathlon Certified

(IU)
Learn My Proven Live Fit Formula™
Employ My Powerful Big Three Training Circuit
Master the Autofit Training Model™
Tony Arreola
NASM MASTER TRAINER
Astoria Location
1X Per Week
Economy
$450
SAVE $50
NOW $340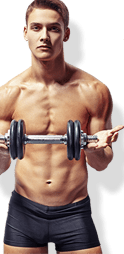 3X Per Week
Premier
$1400
SAVE $300
NOW $900
SOLD OUT (Apply for Wait List)
What Makes Tony So Different?
In a world of fly-by-night trainers. Tony the Trainer is a seasoned FULL-TIME professional with over 19 years of experience. I'm professional, educated, timely, and reliable. Fitness is my passion.
This is all I do. In fact, this is the only thing I do.
I only care about your results.
So much so, that I ONLY do month-month agreements. It's called the "We Both Win Agreement." Every month I promise to help you as much as possible, in turn, you promise to turn in your best effort. If one of us fails, we both fail. And we stop.
I understand weight loss is a long journey. I understand because I've been there. 
Read my story.